Accessibility
The address of Huis Wylerberg is:
Rijksstraatweg 174
6573 DG Beek-Ubbergen
Gelderland, The Netherlands
Public transport
From the central station in Nijmegen you can take the German bus line 58 in the direction of Emmerich Bahnhof until the bus stop 'Beek Sportpark'. From there on it is a fifteen minute walk to Huis Wylerberg. Consult the map below for the walking route, or click here for more elaborate directions from the bus stop.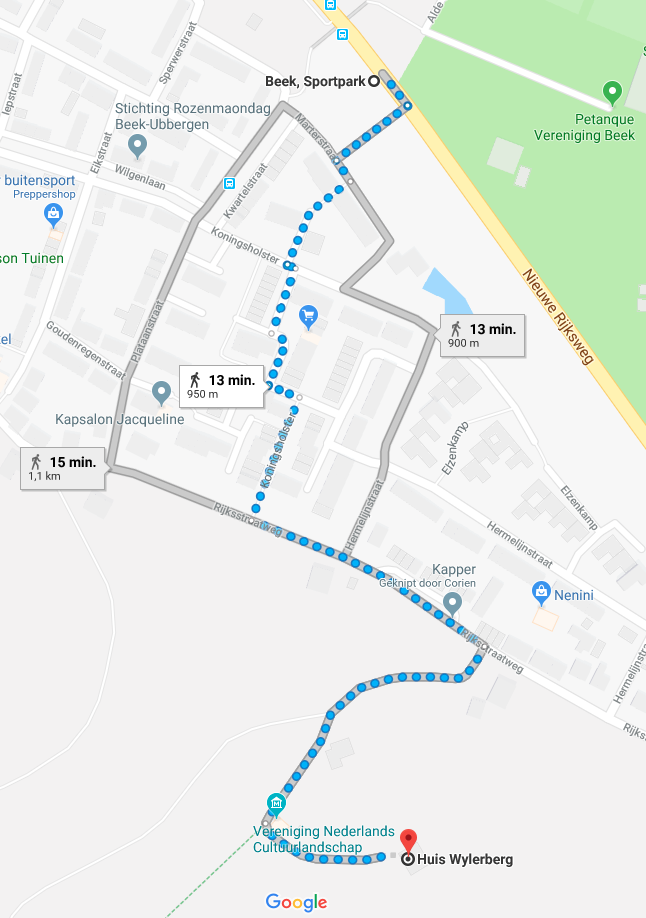 Private transport
From Nijmegen, follow the N325 in the direction of Kleve. At the crossroads with the traffic lights, turn right to Beek. Follow this road until you enter the 30 km/h zone, then turn right up to the t-junction with the Rijksstraatweg, where you turn left in the direction of Berg en Dal and Groesbeek. After about 1 km, turn right up a sandy path towards Huis Wylerberg.
Because of the fragile environment, we kindly ask you to park your car next to the road (Rijksstraatweg) below.
Please note: because of the hilly environment and the many stairs, Huis Wylerberg unfortunately is not accessible to wheelchair users.
Opening hours
Huis Wylerberg is opened during the period of April up until October, every Wednesday and Sunday between 11 AM and 4 PM. The entrance is free!
Huis Wylerberg is closed during the winter months of November up until March and on holidays.